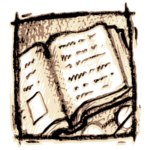 When kids see adults reading they're more likely to read, themselves. It isn't just a theory, there's been research done on this.
When a kid sees an adult reading a children's book, he's even more likely to read. Try picking up a kid's book for yourself the next time you're at the library; the effect on your child will be very interesting.
My literacy colleague, Jen Robinson, has a slew of other great reasons why adults should read children's literature:
*Re-reading the books you loved as a child will transport you, like a time machine, back to your childhood.
*Some of the new children's books are fantastic. If you don't read them, you'll have missed out on some great reading.
*Bonding. If your child loves books already, you'll be able to talk to her about what you're both reading.
*You'll better understand what your child is interested in (or concerned about) if you read what she's reading.
*If you didn't read much as a child, now's your time to catch up on what you missed.
*Since good tends to triumph in kidslit, children's books may uplift you and inspire you. It also tends to charge those imagination muscles that may have become slightly dormant in adulthood.
*If you read what your child is reading, you'll be aware of the kind of content he's being exposed to–especially if you're wondering whether a particular book is appropriate for your child. It also gives you a chance to explain, or put into context, any content you think might be confusing for him.
*It's a great way to show your child that you care about what's going on in his world. You're taking the time to be interested in what he's interested in.
*Children's books are faster reads than adult literature. Even if you "don't have time to read," you do have time to read a children's book.
*It's fun. Pick up Percy Jackson–I guarantee you won't be able to put it down until you've finished it.
How to get started
Ask your child to recommend a good book. (He'll be proud that you asked him, and it will be a chance for him to show off his knowledge a bit.) If he can't decide on one, just pick up whatever he's reading now–you can read it after he's gone to bed.
Jen Robinson has also put together this handy list of 25 children's books that adults will enjoy.
Let me add to her list my own favourites:
*The Twilight series;
*The Percy Jackson series;
*The MacDonald Hall series;
*The Encylopedia Brown series; and
*The Mysterious Benedict Society (book one).
Here's Jen's original article.
Image: Wikimedia Commons.