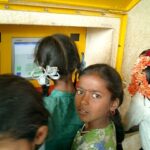 Here's why we say you should "scatter books around the house."
I want you to watch this exciting speech by Sugata Mitra on TED.com that illustrates the extent to which kids can teach themselves.
Through his "Hole in the Wall" project he conducted a series of experiments in 1999. He went to a slum in New Delhi, India and secured computers, hooked up to the Internet, into a wall so they could be used. And then he left.
The kids there had never used a computer before. And, the computer was completely in English—a language the kids didn't speak or understand.
Within eight hours, an eight-year-old boy was not only surfing the Internet, but he was teaching a six-year-old friend how to browse.
The kids taught themselves how to use the PC, and the Internet—in English—and they began teaching each other.
He conducted the many more experiments which supported his theory that when they're left alone, with the right resources, children are able to self-instruct to an incredible degree.
So how does this apply to literacy? It's simple: Scatter books around your house. Put a book on his bed. Put a book in the bathroom. Leave a book poking out from under his dresser. Leave a book on the kitchen table.
If you leave a kid alone with a good book, he will pick up the book and start flipping through it. Soon, he will become interested in it. He will read.
Here is the speech (it gets really interesting at about 7:33).