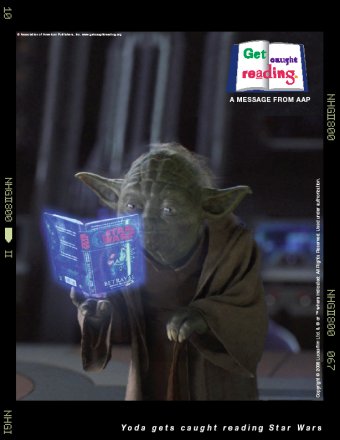 If you're trying to encourage your child to read more, surround her with good examples. Read, yourself, especially when she's around to see you setting a good example.
And here's another good thing to do. Go to Get Caught Reading and print off one of their celebrity posters. You can download it for free and print it on your colour printer. Or, I just email my colour printing to a quick-printer and pick it up later. Costs about a buck or so to have them print something in colour on larger-sized paper.
Then you've got a great poster for your kid's room.
When your child's hero is seen reading, your child will get the message that reading is a worthwhile activity.
Get Caught Reading has sports heros like NBA players Jerryd Bayless and Grant Hill; fictional characters like Dora the Explorer, Clifford and The Rugrats; singers like Alicia Keys and Gloria Estefan; and celebrities like Mary Kate and Ashley Olsen.
Frankly, I don't know half of them – but your kid will. (What is "Friday Night Lights," anyway? No idea.)
And you're not going to find the ones you really want – Justin Bieber or Hannah Montana. But it's a collection that grows, so you can check back with them and maybe even post a note asking for your favourite celebrity to be included.
Postering your child's wall with a celebrity reading. "Mmm! A good idea it is!" Yoda out.