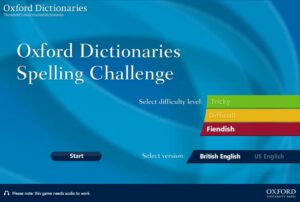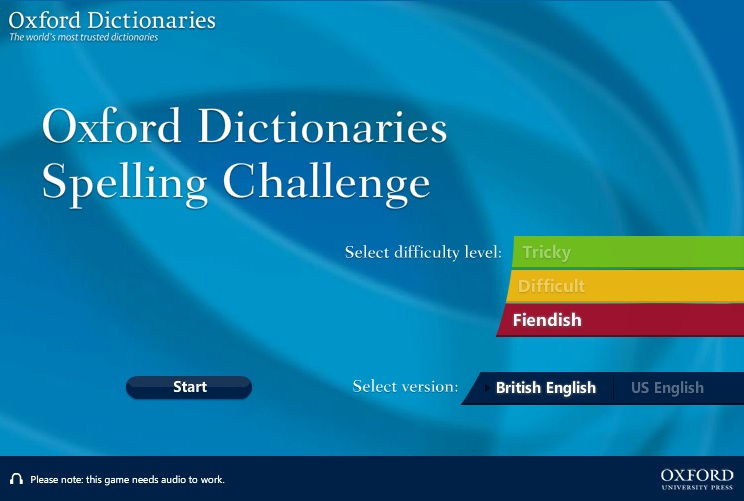 This one's for kids who are already good spellers and who think spelling is fun. (To me it's a no-brainer, but I have to remember that not everyone reads the dictionary for fun.)
Anyway, that kid will appreciate this great online spelling bee from Oxford. It's fast and it's fun – and it's challenging.
Go to the Oxford Spelling Bee site.
Choose British English or US English. Then choose your level, from Tricky to Fiendish, and then click Start.
Warning – Fiendish will require you to spell words like gymkhana and belligerent, one of which I got wrong (Does the word not look better to you with one l? Look: beligerent. Oh. OK, that looks wrong.)
The website reads the word in a lovely British accent, so make sure your computer sound is turned well up. You can hear the word again if you want before you try to spell it. If you get it wrong, you get an X. If you get it right, you get a checkmark. Each category goes up to 15, and at the end you get your score.
I love that they start with "Tricky" as the lowest level which implies that if you get one wrong in that category, well, it was tricky. (It's not you, it's me, Oxford is saying.)
You can work your way through the levels, and you can do a level again to try to get a better score. When you do that, the words change so you can keep playing over and over again.
Now I'm feeling a bit belligerent about my score so I think I'll go work out in my local gymkhana. Wait – with my horse. (I just looked it up.)