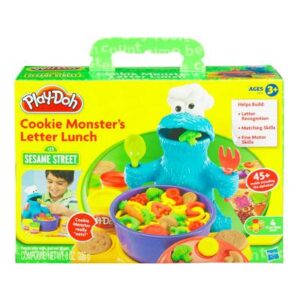 I'm a big believer that if you want kids to understand words and letters, they've gotta get their hands dirty.
If there's something to feel, touch, throw, squish and otherwise interact with — kids are going to get the message on a whole different level.
(It's called kinesthetic learning, but I prefer "squishing.")
Play-Doh has created a new toy that lets kids create, and then squish, letters. And in-between maybe spell a few words.
Cookie Monster's Letter Lunch is a back-to-basics Play-Doh toy. You push the playdough into the moulds, and create letters and healthy foods.
Then you can "feed" Cookie. His mouth has a flap that goes down when you put, say, playdough broccoli on it. (My kid, who is 10 and far too old for this toy, loves the fact that after you feed Cookie, the playdough falls through his body and out his, er, back. OK, derriere. But 10-year-olds can find something rude in anything.)
The kit comes with a sturdy Cookie Monster, dozens of moulds the right size for tiny hands, four tiny cans of Play-Doh and one of those Play-Doh spaghetti-maker thingies. They're fun.
If you've got a Play-Doh type of kid (if you've got one you know it – they spend hours!) this is a decent toy. Very simple and sturdy. And kids can squish every letter they make. And then feed everything to Cookie, who is never too full to eat a kid's creations.
When you open the kit, make sure you keep the box intact so you can put all the parts back in there. The box has a handle, which is a good touch.
Disclosure: I asked Hasbro to send me this toy because it looked like it had some merit in terms of literacy; I think it does.