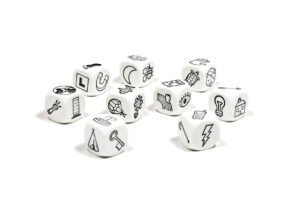 Here is a simple, elegant, wonderful game that's great for:
• Story-building
• Fostering imagination
• Putting events in sequence
• Inspiration for writing a story
• Staving off boredom while you're waiting at a restaurant
• General all-round silliness.
There are nine dice. Each one has six simple pictures. For instance, a happy face, a magic wand, a tree.
You use the nine images to build a story.
For instance:
I was happy when I found a magical tree.

or,
The magician used a tree to make his wand. It was a happiness wand.

or,

I "wand-ered" over to a tree, where I stopped and smiled at my own pun.
The great thing is that there are no wrong answers. And all kinds of possibilities.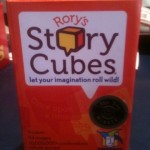 You can use as many or as few dice as you want. You can ignore some. You can make the images mean just what you want—even if that wouldn't be someone else's interpretation of the picture.
And you can get as silly as you want.
Rory's Story Cubes are portable and stored in an elegant little magnetic-closure case. We bring them to restaurants and roll them while we're waiting for the food to come.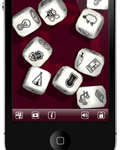 If you've got a few kids in your group—even if they're very diverse in terms of age or interests—it's a great way to keep them occupied. And laughing.
There's a great back-story to this game. Rory originally invented his cube game for companies to foster creativity and teamwork. He has since come up with a number of different versions, including a version with just "action" pictures (verbs), one that's about voyages, and a smart phone app.
Rory's story cubes sell for about $15 and they're available at most toy stores or online at the Rory's Story Cubes website.