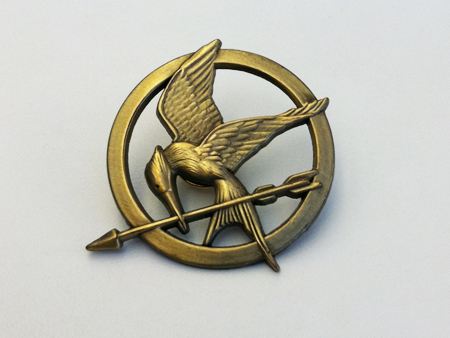 I think I now have a better understanding of kids who don't enjoy reading.
Sometimes, it's the subject matter that puts them off.
Take me and The Hunger Games, for instance.
I have tried to read it several times. But every time I picked up the book… yep, still about children killing each other.
It's not for me.
I don't get the whole dystopian thing. I find it creepy, depressing and scary.
But I also get that The Hunger Games, and the whole dystopian genre, is hugely popular with kids. They love it.
The Hunger Games is well-written and compelling. The characters are well-rounded, the world itself intricate and thoroughly thought-out.
But… it's about children killing each other.
I saw the movie on the weekend.
When the lights went down, it felt like I was on a rollercoaster to a scary destination, from which I couldn't disembark. And essentially that's what happened.
From the first moment, when we see how the people in District 12 are living – and all throughout the movie – it's my version of hell. Watching children living in horrible distress, being set up by adults, and ultimately watching some of them die.
It's the reason I walked out of Slumdog Millionaire. (Which was billed as "uplifting" – a marketing lie I still haven't forgiven.)
I didn't want to see the The Hunger Games, but as a children's literacy blogger and writer I could no longer avoid this literary juggernaut. I had to get into that rollercoaster and buckle up. (With my 10-year-old, who thoroughly enjoyed every second, wasn't very disturbed by it, and helped me through the scary bits. "Remember, it's just a movie, mom!")
All of this has given me insight into kids who are forced to read material they haven't chosen for themselves.
No matter how well-written or popular it is, sometimes you're just not into certain books.
If I were a kid and The Hunger Games was on the curriculum, I can imagine the teacher saying, "it's a great book! Millions of kids love it!" But it wouldn't be my choice and all those other kids loving it still wouldn't make me want to read it.
I'm glad I saw the movie. I'm not sure if I will ever be able to get through the books – although now that I've met Katniss Everdeen I do kind of want to know her better.
In the meantime, where did I put my copy of Scott Pilgrim? I need a chaser.