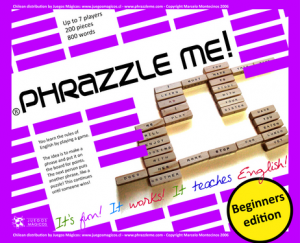 If you're teaching English as a second language (ESL) or if you're wanting to push your students' English to a more sophisticated level, here's a well-thought-out game.
Phrazzle Me! is essentially 200 blocks of wood with words imprinted on them.
The simplest way to play the game is to take seven blocks (each block has four words to choose from) and make a sentence. The next person builds on your sentence, going up and down or across. You get a point for every block you use.
If a phrase doesn't make sense ("The table barked") you lose a point.
But Phrazzle Me! ("phrase" + "puzzle") can go beyond just game-play. If you're teaching ESL, you can take the game in lots of different directions.
For one thing, the words are colour-coded. For instance, green is "to be" and gerunds "-ing words." Red is "to have" and past participles.
Now, people who already speak English will probably stop right there. Because in North America, most people don't know their gerund from their modal–that's just not the way we normally like to learn languages.
But in most of the rest of the world, teachers and students are very familiar with past participles and auxiliary verbs, and are quite comfortable learning that way.
So for them especially, Phrazzle Me! can be a tremendous teaching tool.
For instance, the teacher can take just the question words, the auxiliary verbs and the subjects and then tell the students to make questions using this format:
Question + auxiliary + subject + verb.
"Where are they flying?" Boom, that's a great question with every word in the right order.
You can easily change the rules. If you're working on gerunds, make them worth double the points. If you're working on past tense, make that key to the game. Let students take more or fewer blocks.
Phrazzle Me! is elegantly designed and sturdy. There's no board; players set up the game on any flat surface. And it includes a draw-string bag that holds the pieces afterwards.
The game can be played without a moderator, but it works much better when a teacher is involved who decides if phrases are correct or not. It's designed to provoke discussion and a long-term understanding of English.
We played Phrazzle Me! with our family and found that it can be quite challenging. It just goes to show how complex and difficult the English language is, even for native speakers.
The game is available through phrazzleme.com. There is also a Toronto-based distributor; contact them at dr.montecinos@gmail.com.
At $100 UPDATE: $79.99 a game (which includes shipping) it's not in the same pricing ballpark as most just-for-fun games. But this is the kind of game an ESL teacher would buy and use throughout her career because it will last forever.