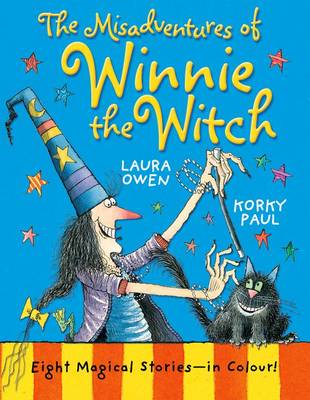 Oh Winnie, how I love thee!
Winnie is one of my all-time favourite children's book characters. She's a bit edgy, a bit subversive and fairly narcissistic. She's unorganized, often scatterbrained, resourceful and thoroughly likeable.
When she gets an idea she just runs with it. Looking for a birthday gift for her cat she finds a fishing boat excursion on the Internet and bam! next thing you know they're on a boat, poles in the water, with a magical orca on the line. She lives for the moment. Winnie has a cat, Wilbur, who is a great foil for her impulsiveness–and often a victim of it. But it always works out in the end.
I wish I could be more like Winnie. I wish everyone could. What a hectic, colourful, madcap, fabulous world that would be.
I'm deep into the witch's new 8-in-1 anthology right now (having read the all of the single-story books with my son when he was young). There are also older-kid versions with more words and fewer pictures. And a great website here.
Winnie was craftily created by Valerie Thomas, wittily written by Laura Owen and is colourfully illustrated by the uber-quirky Korky Paul.
I've written about Winnie before–here. Because she is much fun, so darned much fun!