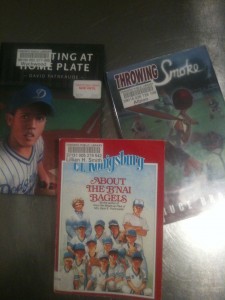 My son had run out of books. Already read the new Rick Riordan. Finished his school-assigned books. Bored of reading.
I needed to rekindle his interest in reading, but how?
I looked to his main hobby–nay, obsession–baseball.
I'd already done something I thought was pretty darned clever. I found a couple of novels written by former baseball player Cal Ripken Jr. (Super-sized Slugger and Hothead). My son loved them because not only were the protagonists his age and baseball players, but the novel was written by a baseball player so it was authentic. It spoke his language.
He read them and loved them. But after that, I was tapped out.
So I went to the library and asked the librarian if she knew any baseball novels.
She did. In fact, one of her favourite books as a young girl was E. L. Konigsburg's About The B'nai Bagels. It's the story of a kid whose mother ends up being his baseball team's manager. (Awwwkward.)
She put that one one hold for me and while it was working its way toward my library branch, she ferretted out a couple more: Haunting at Home Plate by David Patneaude and Throwing Smoke by Bruce Brooks.
My son loved them!
So there's the idea for you. Think about your kid's hobbies and then talk to a librarian. It can be kind of hard to Google these things, because you'll get all manner of how-to books, instructionals… but those librarians, man, they know stuff. Tell them what your kid's into and before you know it she'll find you something amazing.
That's what happened for me.
UPDATE: When I published this article back in 2012, I hadn't yet published… wait for it… MY OWN BASEBALL NOVEL! Yep, I said it! I wrote Tagged Out, a middle-grade baseball novel set in Toronto's Christie Pits (published by Lorimer Publishing). So I'd like to officially add it to this post as "a great baseball novel for kids." If I do say so, myself. And I would certainly be remiss if I didn't mention that you can buy it in bookstores or online here. And please do.