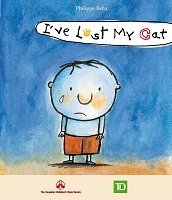 Every year, all grade one students in Canada get a free book.
That's every grade one student — more than 500,000 of them. No matter what school board they're with, whether they're homeschooled, whether they live in a remote community. Everyone gets a book to take home and read over and over again and keep.
The program is funded by TD Bank and it's administered by the Canadian Children's Book Centre. The CCBC selects wonderful books. Just the right books, in fact. And this year's gem is no exception.
Author/Illustrator Philippe Beha's little grey cat once went missing. He put up signs around the neighbourhood in hopes of getting him back. Several people called with cats – however, they were always the wrong ones.
Beha's story folds into a brilliant and beautiful picture book, "I've Lost my Cat," with charm and depth and sensitive wit. The half-million children in Canada who will be receiving Beha's book will love it.
In the book, our protagonist is handed many animals – and even a melon – that fit some part of the description of his cat. He accepts them all graciously, finding a home for the elephant, the penguin, the bird and even the sheep he's presented with. And just when he least expects it… he finds his cat. (Didn't think you'd mind the spoiler.)
The book is "J'ai Perdu Mon Chat" in French.
Every child deserves to have a book of their own. Not only does owning a book promote literacy, but it promotes self-esteem. TD and the CCBC began their Grade One Book Giveaway Program in 2000. Since then they've given away millions of books.
It is a very, very good thing.
Visit the CCBC here, and get a list of the previous years' books – you know they are sure-fire winners, every one.