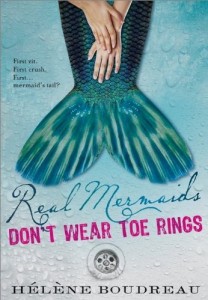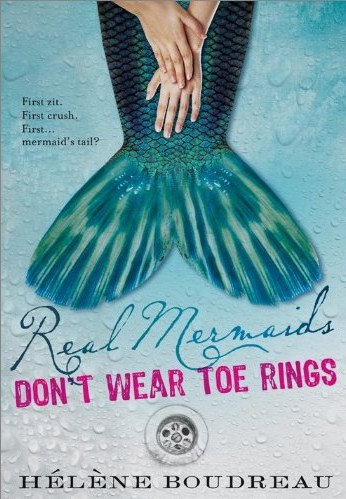 No they don't. They don't wear toe rings and you wanna know why? 'Cause when they change from human to mermaid that toe ring flies right off–ping!–to who-knows-where.
Finding her toe ring is but one of the many challenges Jade Baxter faces in the first book in this series. Others are: finding a bathing suit that hides her muffin-top, crushing on a boy named Luke and – being a mermaid sometimes.
I'm not normally drawn to supernatural literature, where the main characters are vampires or angels or werewolves. However, I was intrigued by Hélène Boudreau's mermaid series for a couple of reasons. For one thing, Jade isn't a reed-thin, blonde, perky-perfect teenager. She's — normal — like Boudreau's readers (well, except for the tail). So readers will find a character who is flawed but endearing and strong. And that's good.
For another thing, kids do like supernatural main characters so when you find a decent book with a believable main character in one, it's a significant find. Also, it's got a rollicking good plot that involves saving Jade's mother from evil mer-people who are holding her in the sea against her will.
Toe Ring is the first of three books in Boudreau's mermaid series.
The second one is Real Mermaids Don't Hold Their Breath, in which Jade and her friends take on an eco-challenge.
And the third one, Real Mermaids Don't Need High Heels (again, so true) comes out in Spring 2013. That one has Jade saving her fellow "mers" as the evil Mermish Council tries to lure them away from land forever.
I understand from her Facebook posts and her website that Boudreau is working on a fourth one, Real Mermaids Don't Sell Sea Shells.
Although it's apparently not great to judge a book by its cover, I've got to add that Boudreau's books have lovely covers. Embossed and watery, in a nice way.
Another thing I like about them is that each one contains a very teenager-friendly, decadent (wait for it)… recipe. Each recipe is for something Jade and her friends make in the story. For instance, peanut-butter s'mores (which include the genius addition of a Reese's peanut-butter cup), or Jade's Five-Minute Chocolate Mug Cake.