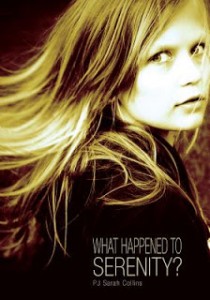 What Happened to Serenity? is a well-written, absorbing read for teens or tweens.
There are no questions allowed in Katherine's town. At least, the adults aren't allowed to ask questions.
That's the reader's first clue that everything's not quite right in her world. Everyone in the town works for the collective good and shares equally; no colour is permitted (everyone wears brown); and kids learn in school that the outside world contains dangerous "unstable air."
When Katherine's best friend's little sister, Serenity, disappears Katherine decides to do something. She goes searching for answers to her unasked questions.
Katherine is a well-rounded character with solid values. Her parents are presented as smart and supportive. And the novel has a slightly dark, dystopian feel. (Kids do like their dystopia.) The writing is fast-paced and readable.
For kids who like dystopian novels like Hunger Games, Serenity would be a solid bet.
By PJ Sarah Collins, published by Red Deer Press. Collins's author website is here.