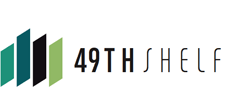 We've talked before on GKR about the three most important things you can do for your kids to get them reading.
(Hint – there're in the sidebar, over there on the right-hand side!)
The fine people at 49th Shelf, a Canadian literature site, have allowed me to talk a bit about them. Just in time for Family Literacy Day, Jan. 27.
(If you're not familiar with 49th Shelf, get yerself on over there and check it out. It's a terrific website that promotes Canadian literature.)
And by the way, if you're looking for something to do to celebrate Literacy Day this weekend, come on down to my book launch for Gabby.
It's this Sunday at 1:00 at the International Travel Authority cafe, 1165 Bloor St. W., Toronto. There'll be cake!
Here's the article on 49th Shelf.