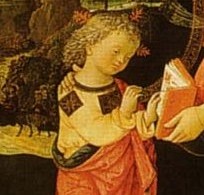 If you're a Canadian kid in grade 4 to 12, you could win a great prize in a writing contest sponsored by the Canadian Children's Centre and TD.
Here are some details:
Deadline is Feb. 1, 2013;
Fiction or non-fiction stories or poems;
Entries must be mailed in (no emails or faxes);
Must include an entry form — found here;
Prizes: $250 book gift certificate for a winner in each grade plus two honourable mentions ($50) from each grade.
You'll find more details, the address to send your entries to and the entry form on the Canadian Children's Book Centre website, here.
(Oh, the image? Yeah, that's a child in the 1400s. He's writing. In a book held by the mother of Jesus. Don't worry, he's not eligible for the contest–not Canadian. Phew!)