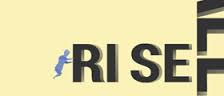 The online game Onomastica is what's known as a "platformer."
In other words, it's one of those run-and-jump games, like Mario (except much simpler).
You make the character run or jump using the –> arrows on your keyboard.
With Onomastica, however, the character also interacts with simple words. When he encounters WALL, for instance, he has to push an S next to TAIR to create stairs that will get him over an obstacle.
It's a super-simple, quick and easy game that kids will like.
And it might just get them thinking about words in a new way.