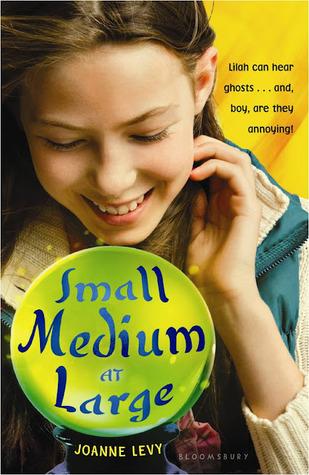 If you're looking for a lovely, humorous read for your tween girl, look no further than Small Medium at Large, by Joanne Levy.
The title refers to the fact that after our heroine, Lilah Bloom, is struck by lightning (at her mother's wedding) she begins to hear ghosts–starting with her grandmother, Bubby Dora.
The ghosts Bloom communicates with are always interesting, funny and helpful. And come to think about it, isn't that exactly what a tween girl needs? Helpful, fun mentors she can turn to for advice during those tricky in-between years.
And what girl wouldn't give anything to be able to spend a few more days with her grandmother?
The story clicks right along, in Small Medium at Large, with just enough character development to satisfy most young female readers and just enough action to make it a fast and easy read.
The ghosts help Bloom solve some problems, like finally getting her dorky dad to go on a date. And she helps them, as well.
The main character, Lilah Bloom, is a girl who's smart but just imperfect enough for the reader to be able to relate to her. Small Medium at Large is a good read, for girls at an age when it can be difficult to find reading material that's not babyish but not inappropriate, either. This book fits the bill.
There is an excellent review of the book on the blog YA Love.