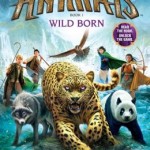 Books in series are popular with kids because, once they've found a book they love, they can keep reading as long as the author keeps writing.
Sometimes, of course, that's not often enough. After all, there are only so many books a writer can produce in a year. Kids can read 'em faster than writers can write 'em.
That's one reason why multi-author series are so popular.
39 Clues, of course, is one of the best and most popular multi-author series, with some big-name children's authors including Gordan Korman and Rick Riordan.
Scholastic recently launched a new multi-author series called Spirit Animals. Book I is Wild Born, by best-selling author Brandon Mull.
The series is almost certain to be a hit with kids. It deliberately hits all the right buttons—an interesting fantasy world in which kids are the heroes, likeable, imperfect protagonists that kids can identify with, and… animals. Kids love books about animals, there is no doubt of that.
But these are not just any animals. In Wild Born, certain children can conjure up a "spirit animal," with whom they then bond for life. That spirit animal gives the child powers—but only after the child has already proven himself capable.
Wild Born's world is Erdas (which, naturally, is in peril and will require the kids and their spirit animals to save it.)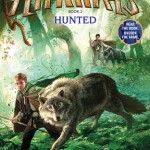 Erdas is similar enough to Earth that kids don't have to mentally venture too far from home. Relatability is important for middle-grade readers, some of whom may get turned off something that is just too "out there."
Erdas's continents are given relatively recognizable names: Arctica, Eura, Amaya ("America") and Zhong ("Asia") – in real life, the Chinese word for China is Zhong Guo.
Brandon Mull scoped out the plot for the whole series, which the other writers will follow and embellish. The uber-popular children's author Maggie Stiefvater (The Raven Boys) picks up the torch for book two in the series, Hunted, which comes out in January. There will be seven books in the series; the last one comes out in April 2015.
Another plus for a middle-grade book is a plot that clips right along and Wild Born has that in spades. The reader is introduced to each child in turn and his or her spirit animal; the children are quickly united in a massive, action-packed save-the-world adventure.
While there is a lot going on—with four main characters and four spirit animals, it's a lot for the reader to keep track of—kids love that kind of mental juggling.
The animals, incidentally, are an eagle, a cheetah, a wolf and a panda (whose bonded child never quite appreciates it in Book I: "What skills would it bestow on a fighter? The ability to eat bamboo," Meilin asks herself.).
The Spirit Animals series is known as a "multi-platform fantasy adventure series" because it includes an online game kids can access using a code in their book. Kids create an adventurer and conjure their own spirit animal. In fairly short order, enemies start attacking–I was bitten by a magic rattlesnake quite a few times before I could find a way to right-click him into oblivion–and the Greencloaks waste no time in ushering your character into Erdas.
It's not necessary to go online to enjoy the books. It's just an added bonus to help get—and keep—kids reading.