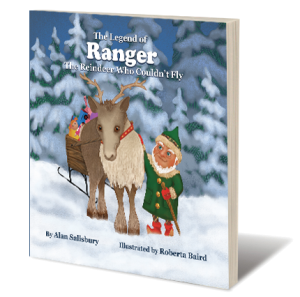 Here's a nice, literary way to do something good during the holiday season.
All of the proceeds from the sale of the book The Legend of Ranger, The Deer Who Couldn't Fly (and related Ranger products) will go to the Antonia J. Giallourakis Endowed Fund in Art Therapy for Children with Cancer at Massachusetts General Hospital.
Ranger is a reindeer with a big dream–to help pull Santa's sleigh. Alas, Ranger can't fly.
When he goes looking for advice, he is told that "the secret lies within." He eventually finds the secret for himself, while helping some sick reindeer.
It's a lovely story, charmingly illustrated, with proceeds going to a worthy cause.
Find out more about Ranger and the Art Therapy fund.
Purchase Ranger at http://opusonestudios.com/store/ for $12.95.