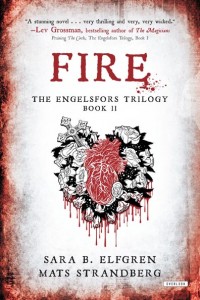 At the end of this review there's a contest for a free copy of Fire (so keep reading).
If you're looking for a good read for your tween or teen daughter, you may want to consider The Engelsfors Trilogy. Book I is The Circle and Book II, just published, is Fire.
They caught my eye for several reasons:
• The books were written (originally in Swedish) by established writers: screenwriter Sara B. Elfgren and journalist Mats Strandberg.
• The rights have already been sold in 29 countries. That sounds pretty good. Doesn't happen to every book that comes along, that's for sure.
• Benny Andersson of ABBA has purchased the film rights. Again—bodes well.
When you're trying to "get kids reading" you're looking for what your kids will like–something that's going to catch their interest and draw them in. (As opposed to, say, great literature that will change their lives. We'll worry about that once they're hooked on reading.) So if a book appears to be very popular, it may be a sign that your kid will like it, too.
The premise of the Engelsfors series is immediately compelling and unique. Yes, it's a fantasy featuring witches and magical powers. But here's the difference. The book's protagonists are not one but five high school girls with disparate lives and points of view.
The whole point of the book is for these girls to get out of their own heads and start to see other kids for who they really are, and begin the process of empathy. The book sets up a need for the girls to eventually work together, which cements the empathy.
The cast
You've got Minoo, the smart over-achiever, with cracks in her self-esteem. Vanessa, the (increasingly thoughtful) partier who wants to be loved. Linnea, the orphaned loner making it through life on her own terms. Anna-Karin, unpopular and bullied, but with potential. And Ida, the "popular" mean girl with pushy parents who must eventually confront her past behaviour.
Of course, those are labels. The key to the Engelsfors Trilogy is the journey that leads behind each of those labels. Finding the grey areas within each of the girls' personalities, and watching as they transform through self-discovery.
In that way, the book is well-sculpted. There is enough action to keep you going, and enough introspection so you care about the characters.
The actual plot is almost secondary, but here it is: There has been a death at the local high school. Ruled a suicide, but we the reader know it was some kind of mystical murder. The girls are in fact "Chosen Ones" – powerful witches whose lot it will be to save the town from a terrible evil. But to do so, each girl must discover what her special power is, and how she can use it in conjunction with the others'.
Readers will see themselves in the main characters, which is one reason why this is very much a girls' read. Research shows that female readers tend to want to delve into interpersonal relationships and this novel has that in spades.
Deep into the second novel, I found the pace a little slow going and got a bit bogged down, but it picked up again. Overall, this is a series of books designed to keep you reading—and thinking—about the protagonists and likely about your own character.
If the mark of a good book is a memorable character these are very good books, indeed. I'm looking forward to Book III.
Extensions to the books
In the meantime, eight stories from the books have been made into comics–another great way to get kids reading, especially if the comics get them hooked and then they continue on to read the longer, book version. Visit the website for the comics.
The films are apparently also in production. Check out #cirkelnfilmen #engelsforsfilm #engelsforsmovie on Instagram, Twitter and tumblr for pictures and more from the pre-production.
"The Circle" and "Fire" are the first two books in the Engelsfors Trilogy, by Sara B. Elfgren and Mats Strandberg. Published by The Overlook Press. "Fire" recently went on sale; it's 704 pages and is aimed at ages 14+ (although it could easily be enjoyed by younger readers). Visit the website.
The contest
Aren't you glad you kept reading? This contest is as easy as 1-2-3!
1) Email me at joycegrant at sympatico dot ca, Subject: Englesfors and I will enter your name in a draw for a free copy of Fire, the second book in the Engelsfors Trilogy.
2) Tweet the link to this review (include @JGCanada) and I'll put your name in the draw a second time.
3) Post a link to this review on your Facebook page for a third chance to win (email me the link to your Facebook page).
Contest ends Friday, Feb. 28, 2014; unfortunately, it's limited to residents of Canada and the U.S. Good luck!