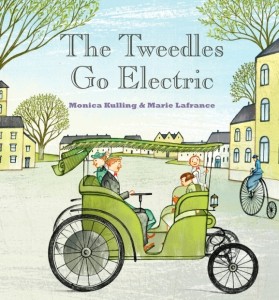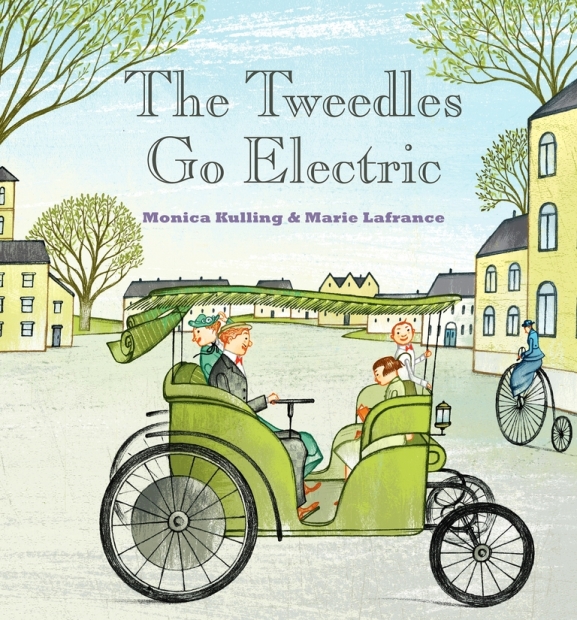 It's the dawn of the 20th Century and everyone's getting into the coolest technology–cars. Everyone, that is, except the Tweedles. They're content with their bikes and their horse-and-cart.
Until one day, Mr. Tweedle makes an announcement: "We're going modern. We're buying a car!"
The Tweedles don't buy just any car, however. They opt for an electric car. A green car.
Author Monica Kulling and illustrator Marie Lafrance take us into the world of the 20th-Century Tweedles and their wondrous green, electric car.
Kulling has written more than 40 books for children and is known for her Great Idea series of books on historical inventions.
Her writing is often delightfully subversive. By which I mean that she tends to quietly introduce the subversive notion that girls can do anything.
Meet, for instance, 12-year-old Franny Tweedle:
Like most girls, she is more interested in higher education. Speed gives Frances nosebleeds, and adventure seems to go along with getting lost, which makes her nervous. There's only one place Frances puts her nose and that is between the pages of a book.
In The Tweedles Go Electric, Frances will end up discovering that she finds speed exhilarating. In fact, (spoiler alert), she saves the day in that electric car.
Oh, and later she will become so exhilarated by speed that she will drive right across the country, "from the Atlantic to the Pacific." (Sub-ver-sive!)
This is one of those books that—through its weavy, clip-along plot and stylishly flat, folksy illustrations—helps you to feel, taste, smell and understand what went on in another century.
It's a book that begs you to put your child on your lap for a thoughtful read-along.
The Tweedles Go Electric was written by Monica Kulling, illustrated by Marie Lafrance and published in 2014 by Groundwood Books which always makes such "beautiful and thought-provoking books" as they so correctly state on their website's home page. Purchase the Tweedles online here.