I sometimes ask publishers to send me specific books that I think will "get kids reading." Here are a few books I think will hook kids into reading and keep them reading.
I've included links to each author and illustrator's website. Author websites can be a great for additional information, resources, teacher's guides and similar books. You (and your kids) can also send the author questions; you'll find that most of them will respond–and getting a reply from the author, even if it's only through Twitter, can be a very exciting thing for a child.
PICTURE BOOKS (Age 3-6)
The Boy who was Raised by Librarians
Some books are better for kids, and some books are better for the parents who read them to the kids—this is great for both. It's about Melvin, who spends a lot of time at the library, and the librarians who help him with everything from snakes to acting to baseball cards. The book follows him from elementary school to high school… and after. It's a lovely book, well written, with smart, humorous illustrations and it shows libraries as the warm, interesting, welcoming places they are. In these days of ebooks and tablets, it also shows kids how important librarians are.
Written by Carla Morris, a retired librarian. I couldn't find her website but I found this wonderful interview in which she talks about what gets kids reading. Illustrated by Brad Sneed and published by Peachtree. They're @PeachtreePub on Twitter.
Norman, Speak!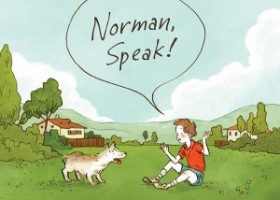 A family adopts a dog from an animal shelter. But Norman clearly isn't very smart. He doesn't understand even basic commands like "sit" or "come." It isn't until the family goes to the dog park that they discover Norman doesn't speak English—he speaks Mandarin. I love the premise behind this book: that "different" doesn't mean "wrong" or, in this case, "stupid." It's a smart, well-written and well-illustrated book that will stay with you and I highly recommend it.
Written by Caroline Adderson  and illustrated by Qin Leng @qinleng on Twitter. Published by Groundwood.
If this story seems a bit quirky, it may be because it's a take-off of an old Japanese folk tale (originally about a boy). It follows a plucky girl who was left on a couple's doorstep, uh, after she burst from a giant peach. (Quirky. Folk tale.) This fierce girl goes hunting for an ogre who supposedly "has teeth like knives and eyes that shoot flames." Well, of course the ogre is nothing of the sort, as the girl and some pals she has picked up along the way discover. It's an unusual story and maybe that's why I like it – and why I think kids will like it, too. Disclosure: the illustrator, Rebecca Bender, is a friend of mine but I requested this book (and wanted to review it) last year, before we'd even met.
Story by Raymond Nakamura on Twitter @RaymondsBrain, illustrated by Rebecca Bender, published by Pajama Press.
I know lots of kids who are fascinated by trains. Those kids, especially, will love this book. And you'll love it too because there are bits you can read to your child, including lots of onomatopeaic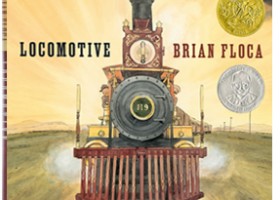 words, and bits you can read just to yourself. And through it all, the illustrations are lovely—detailed, with lots of references to the 19th century. The story is the history of the locomotive as it crosses the United States from Nebraska to California. This is a book you can read in many different ways—as a story, by just looking at the illustrations and talking about them, as a type of history book. It's a book you and your child can read again and again, for many years—or until they drop their interest in locomotives (which may be never).
Written and illustrated by Brian Floca on Twitter @BrianFloca, published by Atheneum Books for Young Readers/Simon & Schuster Children's Publishing.