Looking for a great gift for a kid? Just want to give them something to do when they're bored–that's not TV? Well, read on, my friend because here are the best of the best literacy-based games that I've reviewed in the past and that are still available and still awesome… Part I.
AWESOME GAMES TO GET YOUR KID READING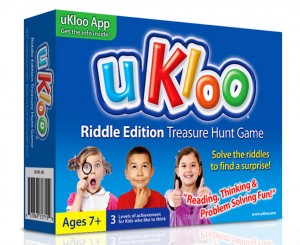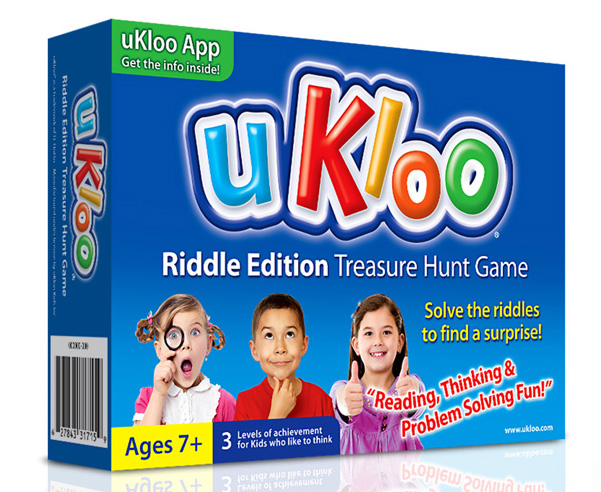 uKloo
Recap—It's a treasure hunt you don't have to make yourself! (What?! You've never made a treasure hunt yourself? Well, trust me, it's very Pinterest and a whole lotta work. This is muuuuch better.)
How it works
Kids find cards telling them where to search next… at the end is a small treat. The whole thing is great for developing reading skills because the child is super-motivated, not just for the treat but for the whole process.
Update—Since I reviewed this game years ago, they've developed a great phone app and a "Riddle Edition."
Here are my past reviews:
http://gkreading.com/2011/05/ukloo-the-perfect-literacy-game-for-early-readers/
http://gkreading.com/2014/01/ukloo-riddle-edition-another-great-ukloo-literacy-game/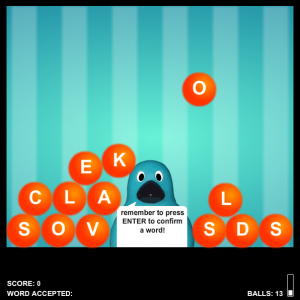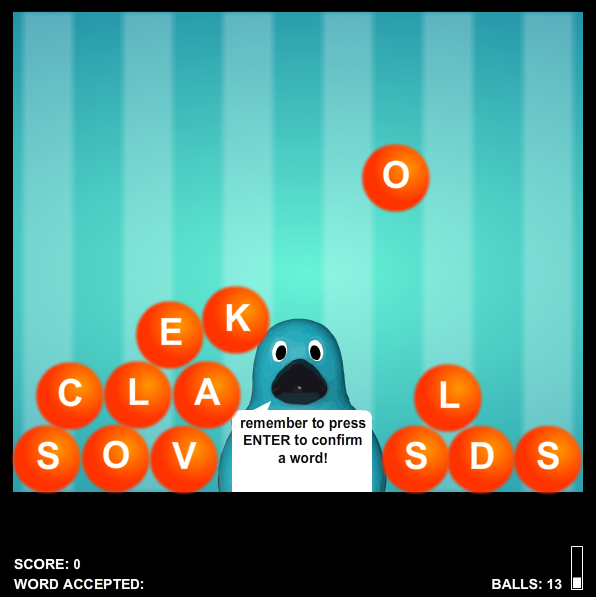 Must Pop Words
Many online "reading" games are BO-ring and slow or both.  Well, here's one that's fun AND features a cute penguin. Gotta love that.
How it works
Go to the website:
http://www.bartbonte.com/mustpopwords/
And click on PLAY.
Then hit Enter on your keyboard to start.
Now, use the letters that fall to make words. Type a word and hit Enter. The balls will speed up, falling faster and piling up. Throughout the game you'll get little "challenges" like "type a six letter word for 500 bonus points" that make the game more interesting.
Not only reading and word-making, but typing skills as well. Fun!
Here's my past review:
http://gkreading.com/2012/11/must-pop-words-great-game-for-literacy-typing-skills/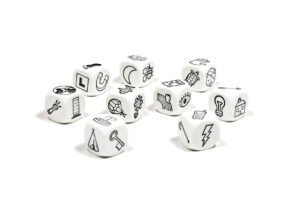 Rory's Story Cubes
A fundamental building block of reading is being able to put stories in sequence: beginning, middle, end.
This is a wonderful game for that. And, bonus, if you have kids of different ages, they can all play at the same time and it will be just as fun for each of them. Many times I brought out these cubes at a restaurant while we were waiting for our order. Keeps kids busy and they don't even realize they're "sequencing." Ha!
How it works
The cubes have pictures on them; you roll them and use the pictures to make a story that you come up with and tell to the others. More fun than I'm making it sound.
Update
These simple cubes have come a LONG way since I first talked about them. Now there are tons of themed cube sets like Batman, Doctor Who, Scooby-Doo!, Looney Tunes and Moomin as well as Voyages, Actions and more.
My past review:
http://gkreading.com/2012/03/rorys-story-cubes-simple-elegant-literacy-fun/
Scrabble Flash (known as Boggle Flash in the US)
This is an awesome game. Don't ask me how it works because the answer is either "magic" or "magnets" or maybe both, I'm not sure.
Basically, you have letter blocks that work together–somehow, see above—and flash letters. You mix the blocks around to form words. The more words you can form with the blocks, the more points you get.
Trust me, this is an awesome game-slash-toy. Kids will love it.
My past review gives you a better idea of how it works:
http://gkreading.com/2010/09/scrabble-flash-boggle-flash/
Disclosure: I don't get paid for reviews, but usually I do receive a free copy of the game after I've called up the company and asked for a review copy. Can't really review a game unless I have it, can I? Yeah, that's what I think, too. If I don't like a game, though, I just don't review it. So, not that much of a disclosure 'cause there's not much hiding in this closet, so to speak.