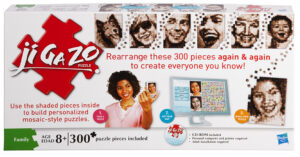 What is the best literacy activity you've done with your kids to help get them reading?
The three top answers will be shared here and will win a Ji Ga Zo puzzle, courtesy of Hasbro and Getting Kids Reading.
The contest ends on Saturday, April 2 so get your answer(s) in by then.
We'll be looking for simple, fun literacy-boosting activities (crafts, games, Internet sites, tips etc.) that kids will really enjoy and that will get them reading.
Winners will be notified here, and the puzzles will be shipped directly from Hasbro.
If you don't know about Ji Ga Zo, it's my latest obsession. (And no, Hasbro is not paying me to say any of this – although they did give me one free to try out. But I did subsequently buy one myself.)
Anyway, click here for my Ji Ga Zo post that will tell you more about it.
There's a commercial that explains it pretty well, here.
AND THE WINNERS ARE… EVERYONE!
I just couldn't pick three winners. I couldn't, I couldn't!
Fortunately, Hasbro has generously offered (OK, after a bit of askin' on my part – well, I couldn't pick three! I couldn't!) to give all of the people who entered our contest a free Ji Ga Zo reusable puzzle. The name may be challenging but the puzzle is awesome. This is a $24.99 value – and Hasbro is shipping them free to all our winners.
So congratulations to – and please email your snail-mail address to joycegrant@sympatico.ca – our winners:
Jen Robinson
Valerie Strain
Ingvild
Lisa Dalrymple
Goletha Smith and
Greg Heptinstall
Congratulations! Woo-hoo! Picture the confetti I'm throwing.
Ah heck, here – you don't have to picture it: