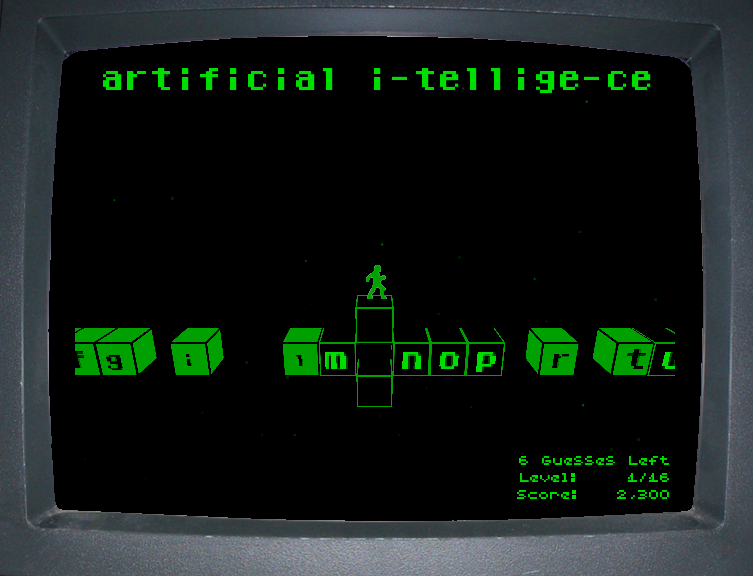 Here at GKR we're always looking for cool literacy games.
Cool + literacy? Not the easiest combo.
Nevertheless, we've found you one. This game is retro, so you know it's cool. (For future reference: if it looks like something we would have played in the 70s, it's cool. Just so ya know.)
langman is hangman plus… well, something starting with an l. Basically it's hangman with a platform gaming element.
(Update: Here's a link to langman on the game-review website, Kongregate.)
Instead of just typing in the letters you want to guess like regular online hangman, you steer a little guy over to the letter using your keypad. If you guess wrong, the letter drops into space and tries to take you with it. As you proceed in the game, it becomes more difficult to reach the letters you want. There's a lot of hopping and running and leaping. (Maybe the l is for leaping?)
The little man ends up in all sorts of difficulties, like having a big block fall on the letter he wants to select and having to figure out how to move the thing. If you guess wrong too many times you could be left with vast craters which become unjumpable (which is what the R-reset button is for.)
langman was created by Ehren von Lehe , who was nice enough to send us these great screen shots. He wants you to know that you can also customize the words the game uses, adding in some of your own. I think you hit "E" to get into the level editor to do that – but frankly that would require someone more technologically oriented than me… like, say, your kid? (I tried to add Harry Potter and Dr. Seuss but then I got confused and then scared and then I bailed before I saved it properly. I'm sure your kid will do a lot better than me.) * See Update, below.
In order to play the game you have to download Unity, which is similar to Flash. At first I balked, but I think Unity is becoming quite popular (von Lehe points out that some big online games like Lego and Star Wars use it). Plus, my Norton program told me it was safe and I always listen to Mr. Norton.
As a literacy tool, it's not bad. The real draw is that it's fun and cool enough to keep kids engaged so if they want to play on the computer but you'd like them to do something that challenges their brain, langman may just be that happy medium you're both looking for.
Thanks to Bart Bonte for pointing us towards langman.
*Update from Ehren von Lehe
To customize the vocabulary:
1. From the main menu, press E.
2. Delete all the text in the "Levels" text box. (This will cause it to just use the default levels.)
3. Enter your custom words and phrases in the Vocabulary text box.
4. Press the "New Game" button.
Viola! You're now playing the game with your custom vocabulary.
If you want to change something, just press E to get back to the editor.
Thanks, Ehren!