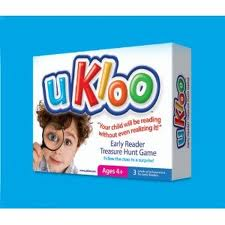 This could be the perfect literacy game.
So simple and so brilliant.
It has all the elements you could want in a game that encourages reading: it's fun, it offers an immediate reward for reading, it's easy for parents to quickly learn and set up and it has lots of "reading helpers" to make sure kids are successful.
uKloo will get your kids reading. It's as simple as that.
uKloo ("you-clue") is essentially a treasure-hunt game. You may even have done this yourself with your kids (I've recommended the idea – #6) but there's no work for you to do, other than hiding the clues.
How to play
You hide cards around the house. The child picks the first card and reads, for instance, "look in your mom's sock drawer." When he gets there, he'll find another card: "Look under the mat beside the bathtub." Under the mat will be another card… and so on, until he gets to the "reward" card.
There are lots of wonderful things about UKLOO:
The "reward" is left up to you. If you believe in offering treats you can make the reward a Hershey's kiss or some other candy. If your kid loves Lego, maybe he'll find a Lego character at the end of his journey. Or a book. Or a loonie. Or a card that says, "good for one trip to gramma's." You can use whatever you feel will motivate your child, and whatever fits with your family's values.
Children are set up for success. The game comes with a poster (which you stick up on the fridge or a nearby wall) that helps the child work through the words on the cards. Nouns, verbs and prepositions are listed with a picture to show the child, for instance, what "under" and "behind" mean. If the child can't figure out a word, he can check the poster for help.
The game has three levels, depending on your child's reading level. For instance:
Level 1: Look in your shoe.
Level 2: Check in the bathtub.
Level 3: Search behind the pillow on the couch.
As your child becomes a better reader, the game grows with him. Or, siblings can play alongside each other, using different levels.
uKloo was invented by Doreen Dotto, who was having trouble getting her kid to read. That was when he was in grade two. Today, the kid is an English major in university. Just sayin'.
uKloo sells in independent toy stores for $14.99 or on the company's imperfect website, here. Now, Doreen, how about creating a version for older kids who are reading but still love to play fun reading games and find rewards in their shoes?
Here's a video (1:18) of the game in action. (Spoiler alert: the kid finds the reward card.)