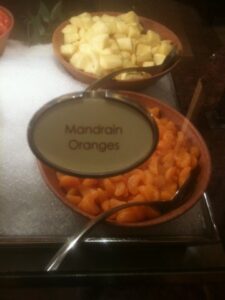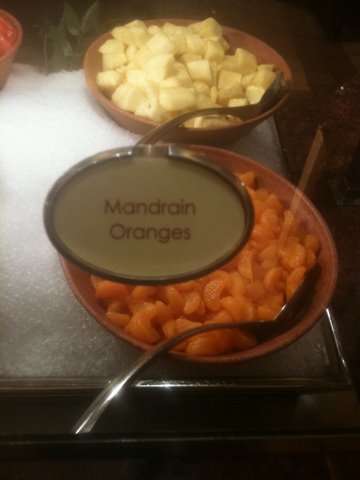 You don't always need books to help your kid read better.
When my son and I go for a walk, there's always something weird, funny or unintelligible to read, correct or figure out.
Example. We went on vacation and on the buffet we saw this sign. (Click on the picture for a larger image.) I called my son over and showed it to him – I didn't say anything. He said, "hey,  that should be Mandarin!" And together, we showed the buffet lady and we all laughed about it.*
It was a great opportunity to get a bit playful with words, while at the same time showing my son the way to approach typos (and the people who make 'em) – while it can be helpful to point out someone's typo,  it's not cool to be judgmental or become some kind of self-appointed "grammar cop."
Another time we were playing some miniature golf. As you go around the course, sometimes you have to wait for others to finish their hole. Rather than just wait, I would point to a sign and ask my son to rearrange the letters in the sign to form new words.
OK, it sounds nerdy, but it's actually a pretty funny game because you wouldn't believe some of the stuff kids come up with! There are no "rules" to the game – you can use all the letters, or just some of the letters – you can even add some letters if you see a phrase you'd like to create.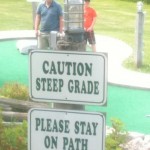 The idea is just to take signs that you otherwise might not pay any attention to, and create new meaning from them
The next time you're out with your kid, even if it's just walking to school, take a look around you at all the reading possibilities. Every little bit helps.
*If you have a kid like mine, you'll know immediately why a sign that says "mandrain" is hilarious. Even the buffet lady thought that one was funny – and then she immediately removed the sign.