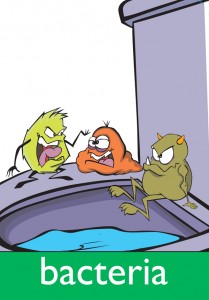 GROSS-ABULARY is very up-front about what it is.
It's a literacy game that's gross.
And we all know that kids—okay, especially boys—love gross.
If your kid is "one of those," then GROSS-ABULARY will be right up his alley.
It's a game about building gross sentences, using starter concepts like belch, armpit and flu for inspiration.
You take a card with a caption like bacteria and your job is to build a sentence around the word before the three-minute timer runs out.
You're given a pile of words and word endings (suffixes) to choose from. And your sentence can be as silly, serious, gross or normal as you'd like. The longer the sentence, the better, since you get a point for every word you use.
The winner of each round gets to answer a multiple-choice trivia question on the back of his card:
How many more bacteria are on an office desk than in a toilet, 20 times, 200 times or 400 times? A: 400 times—I think it's time to clean your desk.
Gross.
If the player answers the question correctly, he wins that card; the player with the most cards wins the game.
My son and I were a bit worried that GROSS-ABULARY would be a bit too gross. But as you play it, you find that the sentences don't have to be gross–unless you want them to be.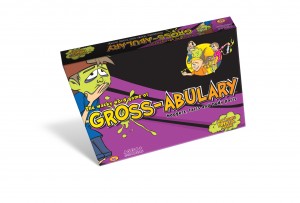 To add to the literacy angle, my son and I read each other's sentences out after every round. That also added to the surprise factor, since I could shock my kid a bit with some very ridiculous sentences that unfolded for him as he read them out.
So if you've got a kid who loves gross more than reading, GROSS-ABULARY is definitely your game. He'll be so caught up in the gross, he won't even realize that he's building his literacy skills.
GROSS-ABULARY (ages 6+, 2-10 players) sells for $24.99 and is available at Chapters/Indigo and Mastermind stores.