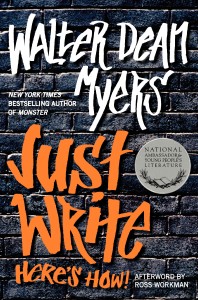 Do you have a budding writer on your hands?
Here's a terrific, fast-reading book that aims to get young people writing.
Walter Dean Myers has written more than 100 books, including the best-selling Monster.
He is currently the National Ambassador for Young People's Literature in New York.
His books tend to be about the young, urban black experience in America. And he knows whereof he writes.
Being able to write lifted Myers out of his sometimes difficult home life. It gave him possibilities. It saved him.
He wants young people to be able to make the journey that was so important for him.
Just Write: Here's How! is a book I picked up at the library because I was stuck. Having a been a journalist for more than 25 years–and writing nearly every day that I can remember–I was stuck. I had several looming book-related deadlines and I needed something to help me get unstuck, and fast. I'm delighted to say that Myers's book has done just that.
I didn't have time for boring, introduction-heavy tomes that were written from atop some author's high horse. And kids don't either.
Just Write doesn't beat around the bush. It tells you how to start, how to plan, how to plot and how to revise. It's practical and specific. "Here are the tools; it's not easy, but you can do it."
For instance, Myers plans his novels using a "six-box model."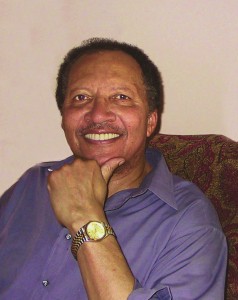 The boxes are:
1) Character and problem
2) Obvious solutions
3) Insight and inner conflict
4) Growth and change
5) Taking action
6) Resolution
The writer fills in each box to create a plan. Later, each box is fleshed out to create an outline.
Myers also advises writers to pin photographs of their characters on a wall near where they're writing. It's a good idea.
Although it was great for me, Just Write is aimed at young people. Myers recounts his collaboration with a young writer who happened to send him an email. (I'm not sure how he got Myers's email address, by the way, because I've been scouring the Internet for it and can't find it anywhere–so right off the bat, this must have been an exceptional kid.)
The two–experienced writer and absolute beginner–began planning their book and then writing it, a chapter at a time, until they had something that could be published. Their book, Kick, was published by Harperteen (Harper Collins) last year.
Myers does a lot of work with kids in correctional institutions. He figures that without writing, that's likely where he'd have wound up. He knows that there are kids in there who have something to say; he wants to help them get a chance to say it.
I love that although I'm not black, I'm not male, I'm not young, I'm not in crisis, I'm not a new writer and (I hope) I'm not headed for jail… this book helped me to write. If you know a kid who is even one of those things, I'm sure it will help them, too.
This is a book that will help kids get–and keep on–writing.
Related links
A collection of Myers's books with descriptions.
Myers's website.