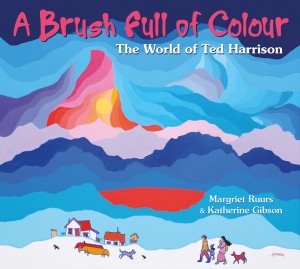 The best way to "get kids reading" is to read to them. Sit them on your lap with a good book—as often as possible. But sometimes that can get a bit tedious, especially when what the child wants to read isn't particularly interesting to you.
Here's a book that will be as interesting for you as it will be for your child.
A Brush Full of Colour is a vibrant, fact-based picture book about Canadian artist Ted Harrison.
While the book takes you (the parent) through the life of a great painter, it will also take your child on a journey of a different kind—of beauty and exploration. The paintings in the book are colourful and magnificent. You don't even have to be able to read to enjoy looking at the gorgeous images.
A few tips for parents reading this book to their child:
Don't read it word-for-word. You can skim the text and pick out some relevant points to tell the child as you flip the pages. "When he was little, Ted Harrison painted the inside walls of his outhouse!"
Don't read it to the child at all. Sometimes the best way to experience a book is to look at the pictures and talk about them. For younger children you can say, "Point to something wintry." For older children you can say, "What do you think was happening when he painted this?"
The book includes "prompt questions" under each photo caption. For instance, "What features are missing from the faces of the people?"
The book also asks the reader to compare different paintings. Flipping back and forth through a book is a great way to enjoy it. You don't have to read all books from front to back!

A Brush Full of Colour: The World of Ted Harrison was written by Margriet Ruurs and Katherine Gibson and features many paintings by Ted Harrison, who also wrote the foreword for the book. It was published by Pajama Press and is available Sept. 19; $22.95.