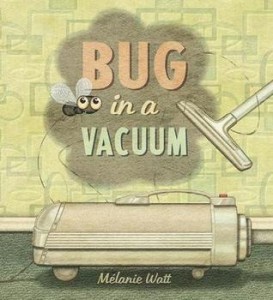 The author of the hugely popular Scaredy Squirrel has written and illustrated a beautiful new book that kids will love—and better yet, parents will enjoy reading over and over again to their children.
One of the things about reading kids picture books is that it can get tiring. And boring. And repetitive. And that often makes parents say, "Let's look at a different book!"
But kids get a lot out of reading the same book over and over again. (I won't bore you with the science, but trust me, reading and re-reading the same book over and over boosts literacy. If you don't believe me, here's an article about it.)
With Bug in a Vacuum, Mélanie Watt manages to appeal not just to the children, but to adults as well. Ostensibly, it's a book about a bug who gets sucked up by a vacuum. The bug goes through a bunch of emotional stages (despair, acceptance, etc.) before finally getting out.
And therein lies the interest for adults. Kids will enjoy the poor bug, stuck in the dusty, dirty vacuum. Parents will enjoy the scientifically-based "five emotional stages." Here's another scholarly article for ya. There are lots of inside jokes that will go right over kids' heads, but there's also tons of stuff that kids will find interesting and fun as well, including puns that you can explain to them (like the two meanings of "vacuum," for instance.)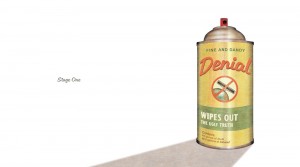 The pictures are glorious. Lush, rich and packed with inside jokes and little things to find. The text is minimal. And boy, are there a lot of pages! You're certainly getting value for your money with this one! At 96 pages, it's three times as long as the average picture book, which is 32 pages. (I did the math for you—you're welcome.)
Bug in a Vacuum, written and illustrated by Mélanie Watt, Published by Tundra, 5-9 years old (and, I would add, adults), $24.99—a bit pricey but remember, three times as long.
Here's the cute book trailer for Bug in a Vacuum.
And, just in case you're interested, visit this page on the Scientific American website to get some instructions (completely unrelated to this book or, in fact, this post) to create a "bug vacuum." Fun.