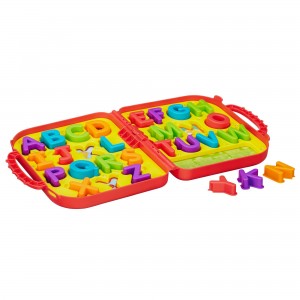 I've been testing out Elmo's on-the-go Letters, a new addition to Hasbro's holiday line-up.
This is a very simple toy, very old school. No electronics to be found here, but I also believe that It is one of the better literacy toys that I have seen lately.
It is just a plastic briefcase with the letters of the alphabet in it. The letters snap in. There is also a space at the bottom-right for children to make words with the letters.
The letters are quite difficult to snap out, even for me. A toddler would most likely not be able to get them out on their own, an adult would do it for him/her. But there's an upside — it means that there won't be letters strewn over the house, or lost pieces (kind of critical for an alphabet).
Kinesthetic learning (learning by touching) is a great way for kids to learn words.
The letters come in a bright red, plastic "briefcase" with Elmo on it. It is a very durable case too–I put about half my weight on it without it really making any sound, or breaking. The briefcase is hard to open, and it would be an impossible feat for a young child to open it, which means that they might be begging mommy or daddy to open it for them, which might be a problem.
All-in-all, this toy is excellent for any child who is starting to learn basic words and is starting to be taught how to form them.
Going to give this one four and a half out of five stars.
(Note: Hasbro sent me this toy to review but I haven't been paid for this review and wouldn't have reviewed it if I didn't like the toy or didn't think that it had a good literacy application.)
Price: Approx. $35.
Recommended age: 2-4