GUEST POST
By children's author, illustrator and board game geek Debbie Ohi.
Board games that might help get kids reading? Plus a great book+game holiday combo gift idea?
After playing and loving wizard school engine-building game Arcane Academy (which is gaming fun for all ages), I'm dying to read the Finding Gossamyr graphic novels.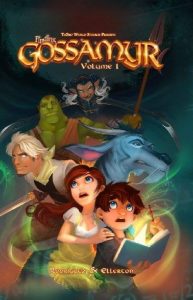 About the FINDING GOSSAMYR series:
"When a brilliant young boy named Denny solves the most perplexing puzzle in the history of mankind, he and his caretaker sister, Jenna, are transported to the fantastic land of Gossamyr, where math is magic and the boy's unique condition gives him incredible power." -Th3rd World Studios website.
Also, check out the Publishers Weekly review.
Rating: ages 8-12
Writer: David A. Rodriguez
Artist: Sarah Ellerton (love her art!)
About the (just-released!) ARCANE ACADEMY board game:
"Challenge rival stud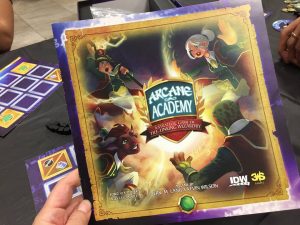 ents to become the best in class in Arcane Academy, an innovative board game of tile-linking, wizardry for 2-4 players that pits young spellcasters against one another in a duel for honor and prestige. Forge potent magic items and wield wickedly powerful elemental energies to outthink and outmaneuver your opponents in this elegantly simple and quick-to-learn board game that will appeal to families and experienced players alike! Arcane Academy is based on the critically acclaimed, all-ages comic series Finding Gossamyr, which is set in a fantasy world in which math is the language of magic." –BoardGameGeek.com
It's the first game design collaboration between Eric Lang & G. Kevin Wilson!
Publisher: IDW Games
Here's another great review of Arcane Academy, by BoardGameQuest.com.
And here's a Watch It Played overview of how to play the game:
https://www.youtube.com/watch?v=Ni269y5whX8
ABOUT OUR GUEST AUTHOR: 
Debbie Ridpath Ohi reads, writes and illustrates for young people. Every few weeks, she shares new art, writing and resources; subscribe here. Follow her on Twitter, Facebook, Instagram and Tumblr.
Read the *starred* review for her WHERE ARE MY BOOKS? in Kirkus.