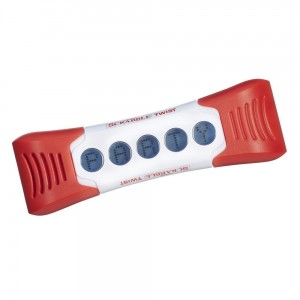 Hasbro makes great, sturdy toys. From an adult's perspective, they tend to be an excellent buy–good value, won't break. But for two other crucial factors, namely fun and literacy, we wanted to get the opinion of someone who is likely to play with the toy.
So we asked high school writer Leni K. to play with Scrabble Twist for awhile and jot down a few comments on it. We also asked her whether she recommends it for parents who want a good, solid toy for their kids that might also teach them something about words. (Spoiler: She does.)
Review by Leni K.
Scrabble Twist is a super-fun toy. I especially enjoyed its "turbo" mode. It's very easy use, and kid-friendly.
It's certainly much more literacy-focussed than other toys I've tried.
I didn't get a chance to try it between two people, but that option sounds great.
Overall, it worked well and didn't break, not even once.
Conclusion: Good for young kids, very hard to break.
Recommended.
Thanks, Leni!
Here's a video by Children's Technology Review that explains how to play Scrabble Twist. They call it "essentially, Words with Friends" — but as a toy. Not a bad description. Scrabble Twist is designed for kids 8+ and retails for about $28. That's on the medium-to-high side for a game, but because it has several modes (you can play it alone or with others in various modes) and because words only have to be three letters long to count–but can be longer–it's quite a versatile toy.