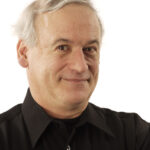 Remember the Scholastic poll we told you about awhile ago?
The one where kids could vote for one of three plots–in effect, choosing what Robert Munsch's next book will be?
Well, more than 170,000 kids voted and their verdict is in!
Munsch's next book will be set in Rigolet, Labrador. It will be about Cheryl, who fishes with her dad. Except the fish keep trying to catch Cheryl. And the pair come back with something pretty special (and it's not a fish).
You can keep checking the Scholastic website here for updates on how the book is coming, as well as some behind-the-scenes stuff on the making of the book. There's also a picture of Robert Munsch in Rigolet with his son and the girl on whom the book is based. Fun!
Thanks to Nikole at Scholastic who helped me out with this shot of RM.