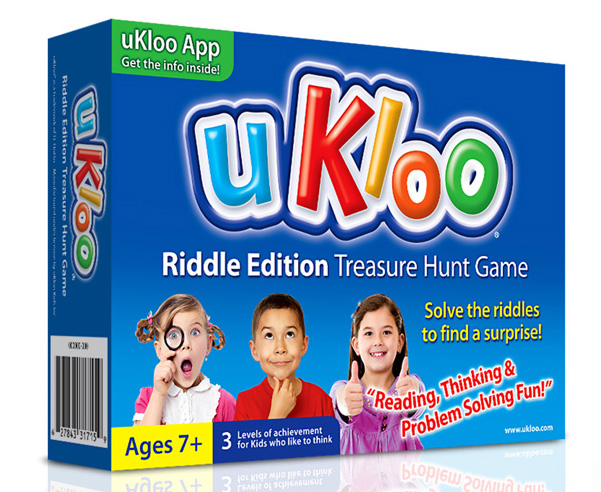 uKloo is a terrific literacy game. Incredibly–wonderfully–they somehow managed to top it.
Toronto game-maker Doreen Dotto recently launched uKloo, Riddle Edition.
The premise of uKloo is simple—it's a treasure hunt. You (the parent) hide cards around the house that kids find and which lead them to the next clue.
For instance, the first clue is "look in your shoes." The child goes to her shoes and finds the next card, which says "look on the kitchen table," and so on.
It's a brilliant strategy to get kids reading because it gives the child a fun reason to read (they want to find the next clue) as well as an instant reward (they find out where the next clue is hidden, and ultimately a grand prize). Fun + reason to read = reading.
Dotto has taken this simple equation and made it even more fun. And she's added problem-solving to the skills the child will acquire without even knowing they're learning.
With the Riddle Edition, kids find a card and have to solve a fun riddle to figure out where the next card is hidden.
Depending on the age of the child, the riddles are very easy or quite challenging.
For instance, a level one riddle: "When your hair is full of dirt, get it clean with just a squirt."
A level three riddle: "Not of shell, of turtle or snail, but made of cloth to hike a trail."
Did you get those? The answers are at the bottom of this post if you want to double-check.
The wonderful thing about uKloo is the way Dotto has adapted it for various reading levels. If the child can't figure out a clue, she can get a hint: "Lather up for shiny locks!"
If she still can't quite get it, she can hold a special booklet (in which the answers are written backwards) up to a mirror and find the answer reflected there.
Three levels of clues, a hint and a fun solution give kids the success that is so important for new or struggling readers.
And with different levels, brothers and sisters of different ages or reading abilities can play together. It's also great for playdates.
As with the original uKloo game, the Riddle Edition ends with a surprise that the parent provides. It could be a chocolate or small toy, or—as Dotto found out from one parent—it could be the announcement that the child is going to have a new baby sister.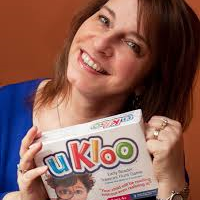 uKloo Riddle Edition includes blank cards so parents can write their own riddles (Dotto provides tips on writing riddles) and it includes Surprise cards so that instead of a toy or candy the grand prize could be "a trip to the ice cream store" or "pillow fight with daddy."
If uKloo is one of the most perfect literacy games, uKloo Riddle Edition takes it one step further. Both are must-get games for any parent who wants to get their kids reading.
uKloo retails for $15.95 and uKloo Riddle Edition for $18.95. Both are available at independent toy stores. You can also purchase them from the uKloo website, here.
You can also check out the new uKloo Early Reader App, currently free (that may change) in the iTunes App Store.
Read my review of uKloo here.
Oh, and I'm sure you figured out that answers are: Shampoo and Backpack.
Lastly, Doreen was on Dragon's Den. Guess what happened? Check it out: